Liverpool's new £1b, 646-bed, 12-storey hospital is a stunning new addition to the North West landscape.
With corridors measuring more than 4.5km (over four times the distance between Anfield and Goodison Park!) a terraced restaurant and landscaped gardens within the site, patients are provided with a modern and innovative hospital experience.
Looking to provide an unforgettable impression for patients entering the hospital's magnificent atrium, Airwave was tasked to provide equally unforgettable digital signage technology, in conjunction with an additional project to supply Integrated Patient Experience technology throughout the hospital's wards.
Airwave proposed the supply and installation of a truly unforgettable video wall solution; partnering with electronic giants Samsung, Airwave will install a 9m x 5.2m LED wall – satisfying the hospital's vision to not only provide a world-leading hospital environment, but to be one of the most digitally enabled hospitals in the country.
Go Digital
With so much emphasis placed on the NHS' GDE initiative, it was a surprise when the Trust's decision to purchase a huge piece of art for the hospital's atrium, became clear.
The rationale of the plan was challenged:
"If it's your desire to become the most digitally advanced hospital in the UK, why not implement a digital signage solution instead of an individual piece of art?"
Of course, digital signage can be used to display an infinite amount of art. Via a signage system's CMS, this art can be changed hourly, daily, weekly or even yearly, able to change the ambience and mood of the atrium in conjunction with the time of day, season, or local & national events.
And as digital signage is multi-faceted in functionality, RLUH can also use it to fulfil a multitude of additional tasks, many of which are aligned with GDE:
Public health messaging (addressing key CQUIN targets)
Promotional messaging & advertising – providing ongoing ROI opportunities for the trust
The many benefits digital signage were highlighted in a video, produced by Airwave's technical team, and presented to RLUH's former CIO, David Walliker.
Following a presentation of the video to the Trust, it was agreed – indeed technology is the way forward!
With a huge space to fill, Airwave recommended a 9 x 5 metre Samsung LED signage display – at the time, the largest indoor display delivered by Samsung UK.
Samsung's 10mm SMD indoor LED wall is operable 24/7, and features 2000 nit brightness and 281 trillion colours, creating striking, bright and dynamic visuals.
Believed to be the first of its kind in the NHS, RLUH's spectacular LED wall is not just a pretty face, it also provides an remotely updatable content platform, enabling the hospital to engage, communicate and inform patients with a diverse range of content.
Multiple zones can be created on a template, displaying several types of content concurrently – examples include: Freeview TV, video, images, RSS feeds, websites and social media posts. As with all credible signage solutions, content can be uploaded quickly and efficiently via a CMS, offering infinitely customisable playlists and content scheduling.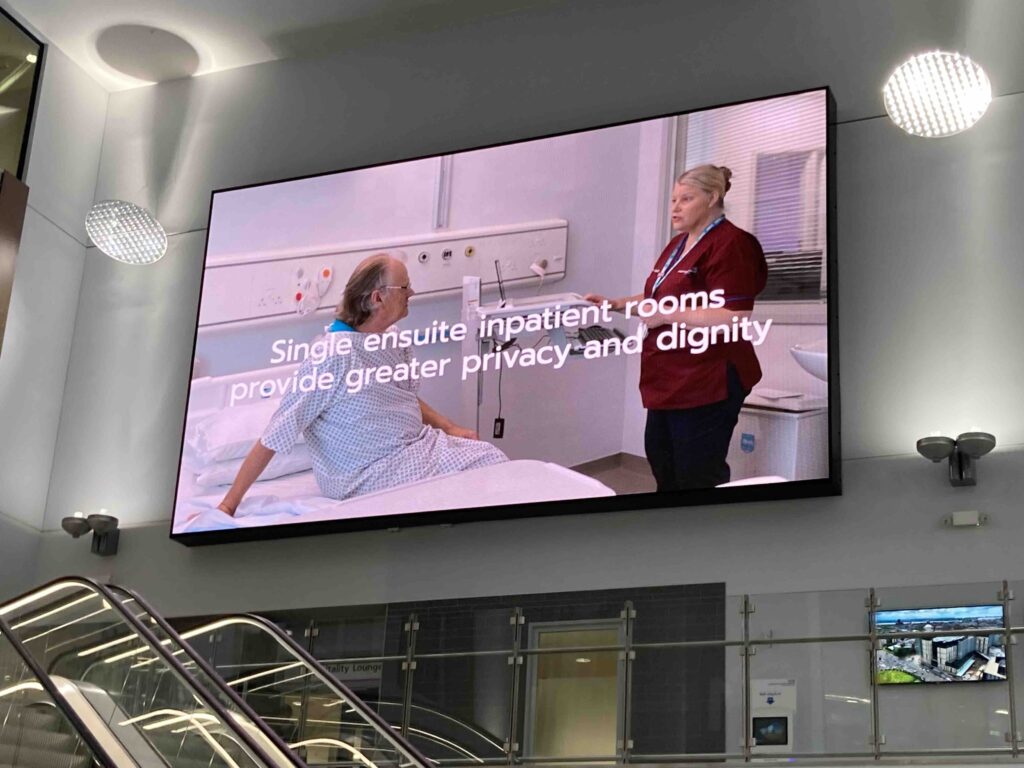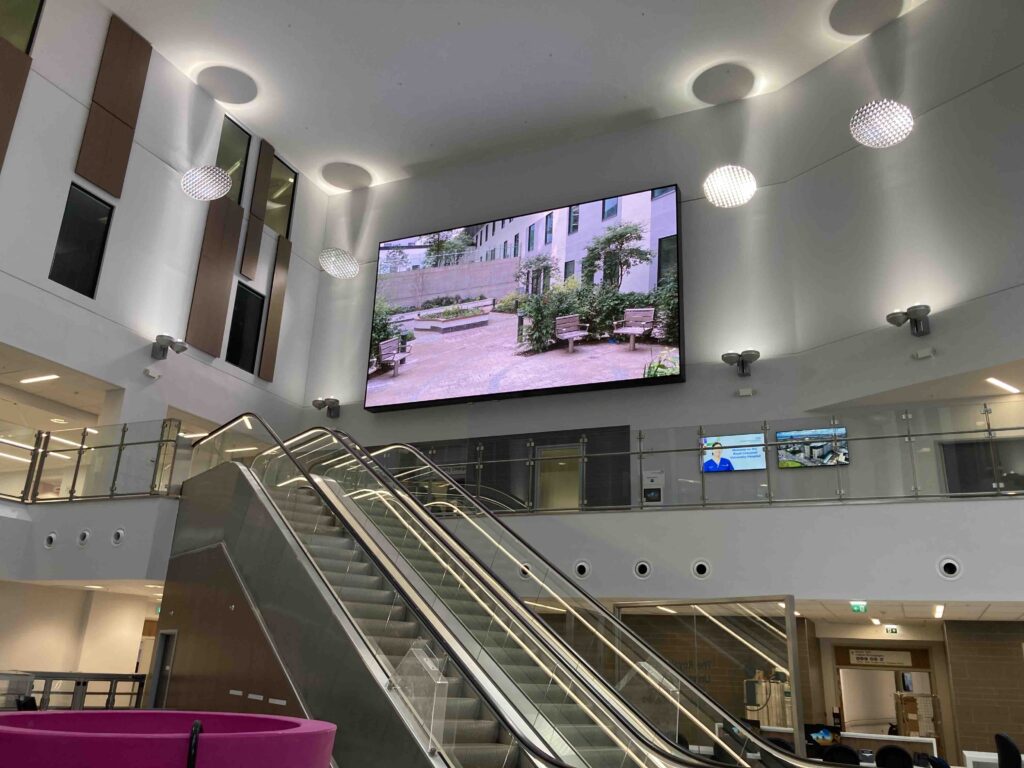 Weighing in at an estimated 2070 kg, the installation of the video wall was a considerable undertaking, requiring extensive preparation work and a detailed structural analysis of the building
However, the bigger the undertaking, the greater the satisfaction when a project is successfully completed; on this occasion, all parties involved fizzed with pride at the achievement.
RLUH's imposing video wall now takes pride of place in the hospital's atrium, flooding it with personality whilst greeting, informing and engaging all those that enter this state-of-the-art new hospital.
Click here to find out about Airwave's installation of Integrated Patient Experience technology at Royal Liverpool.