With 40 wards and more than 680 beds, the Royal Liverpool University Hospital (RLUH) is the largest hospital in Merseyside and Cheshire, providing emergency, general and specialist treatment to patients across the north-west of England.
An important teaching and research facility, RLUH works closely with the University of Liverpool and Liverpool John Moores University, providing placements for doctors, nurses, dentists, and health professionals. It's recognised as a centre of excellence in biomedical, clinical, and health service research, and home to the largest emergency department in the country.
In December 2013, a landmark £430 million redevelopment of the hospital began, with an expected opening date of 2017 (this was subsequently delayed to September 2022, at a revised cost of £1 billion).
Airwave commenced discussions with RLUH in 2014, with early dialogue centred around the provision of a cutting-edge patient entertainment system (PES), to be implemented throughout the hospital's wards and single rooms.
Naturally, the provision of cutting-edge technology is intrinsically linked to time, and the rapid evolution of technology meant the systems and solutions discussed in 2014, were a world apart from those available in 2022.
The introduction of the NHS' Global Digital Exemplar (GDE) initiative added a further dimension to conversations, with RLUH announced as one of the first 12 exemplars in 2016. The GDE programme strives to achieve digital transformation in exemplar organisations, enabling the improvement in the quality of care, via the adoption of world-class digital technologies.
With all this in mind, the consultation period for the implementation of RULH's PES, was lengthy and deeply nuanced, with the technology and plans constantly evolving.
It soon became clear that Airwave's task was not just the design and development of a patient entertainment system, but that of an integrated patient experience (IPE).
Airwave's final submission of an IPE solution tender was based on 62 mandatory, and 10 desirable system deliverables.
A hybrid hardware solution, incorporating both TVs and tablets was proposed. This was underpinned by Airwave's MYCARE TV CMS, developed on an Otrum Mirage platform, featuring enhancements by Airwave R&D technicians, to facilitate its delivery across multiple devices.
Accessible via a branded user interface, Airwave's platform provides patients with a host of entertainment, education, and clinical services, whilst supporting healthcare professionals with clinical applications, designed to improve workflow efficiencies and clinical outcomes (see below features list).
MYCARE TV is connected via the cloud, seamlessly integrating with a range of delivery platforms – such as smart TVs, bring your own device (BYOD solutions) or bedside computers. Designed to minimise installation time and cost, the solution connects with both wired and wireless network infrastructure, and provides a robust platform for future development, feature releases and upgrades.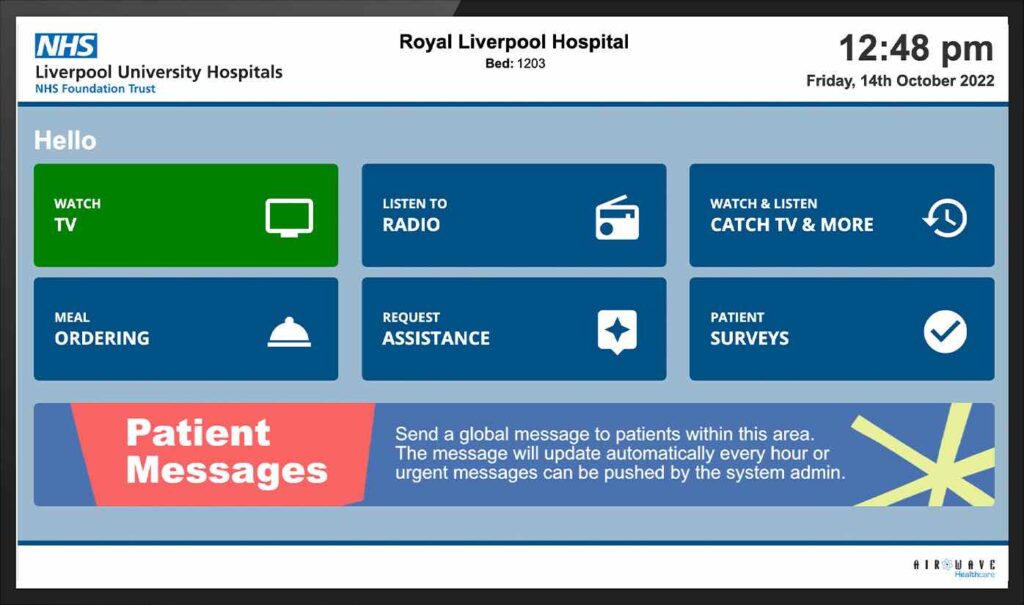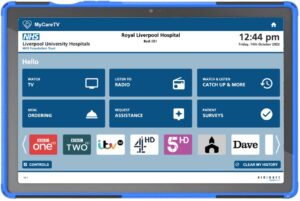 Any system that offers future development or upgrade potential is attractive to a commercial property, however in RLUH's case, this element was critical.
Upon its launch, Airwave's platform offered reduced features – consisting of a 'Watch TV' function, with Freeview channels, access to a livestream from the hospital's chapel, and radio services.
Over the the next few months, new features were (remotely) implemented, available to go live in accordance with RLUH's schedule – late feature additions will include integration with third party systems (via the system's open API protocol), such as PAS (patient admission system) and e-catering / meal ordering.
Having also been tasked to provide the signal infrastructure to support the IPE, Airwave implemented reception infrastructure, and an IPTV headend (incorporating HLS streaming, enabling the streaming of content to tablets over WiFI) to service circa 680 TV end points.
Airwave supplied and mounted 43-inch LG US662H Series commercial displays into the single rooms, and (due to design & space restrictions) 32-inch Samsung 690 Series screens in the bariatric rooms.
80 MYCARE embedded Samsung tablets were provided for the multi-bed wards, each device mounted on a trolley or meal table.
MYCARE TV provides a multitude of features and services, designed not just to entertain the patient, but to provide a serious of operational efficiencies for RLUH's state-of-the-art hospital.
Underpinned by the principles contained within the NHS' Global Digital Exemplar initiative, the system is flexible, scalable, cost efficient, and offers plentiful return on investment opportunity.
Perhaps most pertinently, MYCARE TV has been designed to accelerate future rollouts to other Trust sites over their WAN (wide area network), facilitating communication and the sharing of best practice and innovation.
Click here to find out about Airwave's installation of a 9×5 metre video wall in Royal Liverpool's atrium.