The Property
Montefiore Hospital provides private hospital care, offering a comprehensive list of treatments, tests and scans for patients across Brighton and Sussex.
Located in the centre of Hove, Montefiore's facilities include 20 private, en-suite patient rooms, 3 operating theatres and an endoscopy suite, and diagnostic imaging facilities including MRI, CT, ultrasound, x-ray and mammography.
Having provided a patient entertainment platform at Montefiore in 2012, Airwave Healthcare was delighted to be invited back for a system update
The Technology
On this occasion, Montefiore was keen to incorporate a patient entertainment system underpinned by casting technology (recognising the huge growth in smart device ownership and rapidly increasing usage of streaming subscriptions and catch-up TV services).
Airwave commenced the installation with the installation of an Easystream IPTV headend, allowing the distribution of digital TV channels via the property's IP network.
An Otrum Mirage interactive information system was then implemented. Otrum's powerful TV management solution offers fully customisable 1080p menus, allowing almost infinite flexibility in the design of pages. Montefiore chose 10 content pages and a scrolling homepage – allowing the hospital to disseminate important information, such as the latest Covid-19 measures in place (see the below image).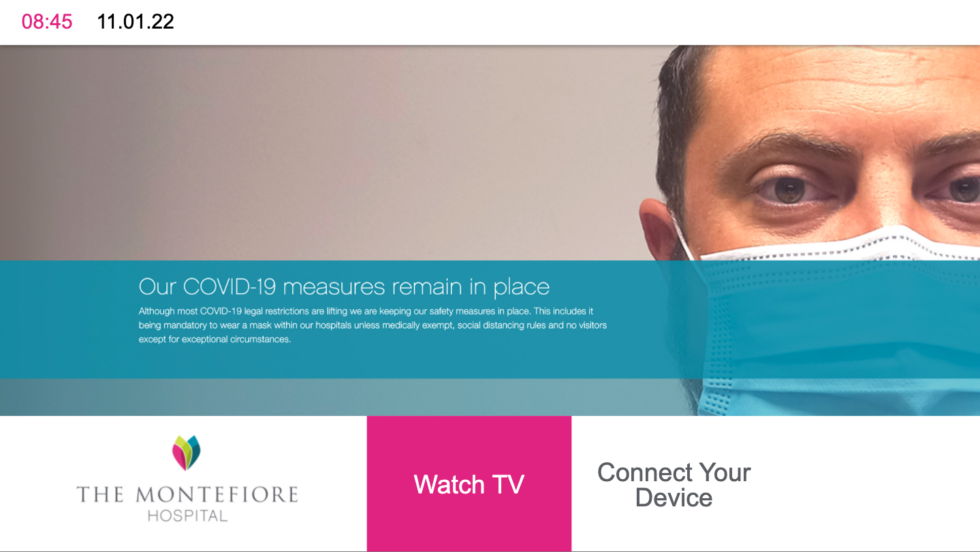 Montefiore's homepage, featuring scrolling leader images with messaging.
Otrum Mirage packs a lot of power under its bonnet, but the key to every good patient information system is simplicity (to find out what makes a great PES, click here), with this in mind, Airwave's technical design team built a series of pages that facilitated quick and intuitive access to the TV channel line-up, and casting functionality.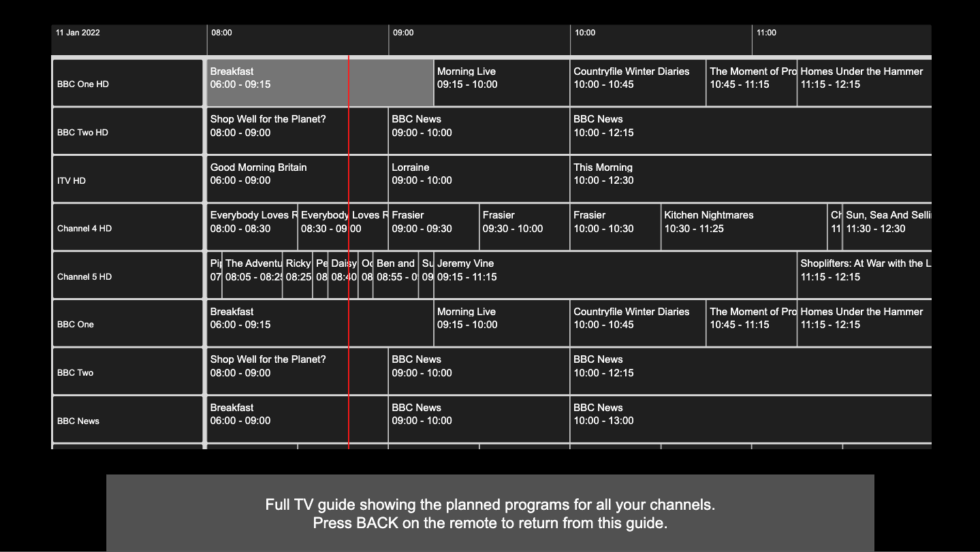 An electronic programme guide offers now, next and later programming visibility.
This was provided via healthcare certified Google Chromecast, accessible via a "Connect Your Device" button on the user interface's home-page. Of course, not everybody is tech savvy so with this in mind, clear and concise instructions greet the user.
Television hardware solutions from both Samsung and Philips were installed.
This shows the importance of veering away from a 'one size fits all solution.' On this occasion, we needed to install different types of TVs to fulfil different purposes, and felt that the best options fell across two brands.

Jes Redgard, Head of Healthcare Sales, Airwave Healthcare
Airwave installed a mixture of Philips and Samsung commercial TVs across different areas of the hospital, including patient bedrooms, day case beds and chemotherapy chairs. TV models included:
Samsung 43 & 50-inch ET690 Series
Philips 19-inch HFL511W
Philips 32-inch HFL5114
TVs were wall-mounted in accordance with their location, using either trolleys and swivel or ultra slim wall brackets. All remote controls were housed in easy-clean perspex holders and attached to curly cords to prevent theft/being misplaced.