About Nuffield Health
Established in 1957, Nuffield Health is the UK's largest healthcare charity. With properties located in England, Wales and Scotland, Nuffield Health operate 37 award-winning hospitals, 114 fitness & wellbeing clubs and over 200 workplace wellbeing services.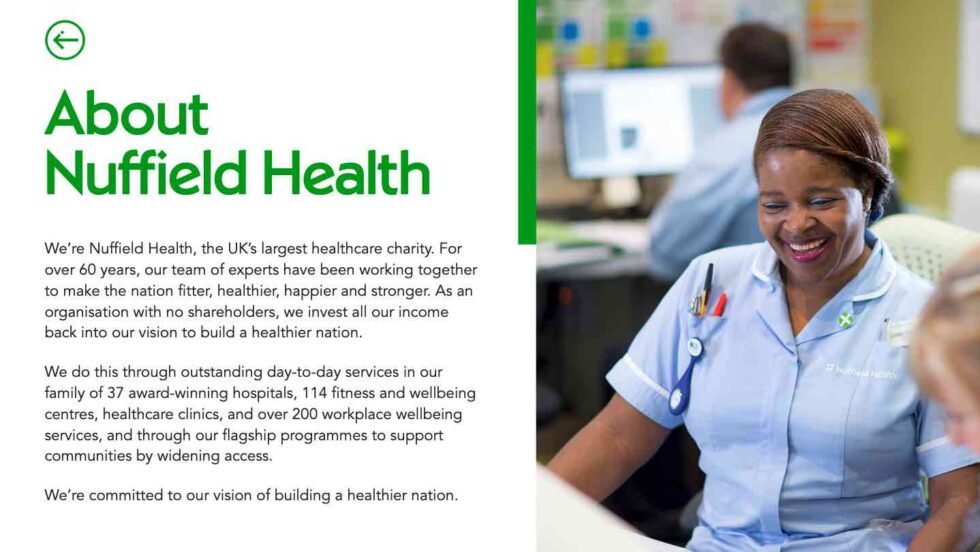 About Nuffield at St.Bartholomew's
Located in the heart of the City of London, St.Bartholomew's is the oldest working hospital in the country (and celebrates its 900th anniversary in 2023).
In 2016, Nuffield Health was given the opportunity to transform St.Bart's pathology building and resident surgeon quarters into an independent hospital. Following a complete rebuilding process, Nuffield Health at St.Bartholomew's Hospital will become the only independent hospital in the City of London – and will feature 55 beds, including 7 critical care beds, 4 operating theatres and 28 consultation rooms.
Although the hospital will specialise in cardiology, cardiac surgery, oncology and orthopaedics, patients will have access to a wide estate of Nuffield Health facilities in London (including 8 medical and 20 fitness and wellbeing centres).


The Project
We believe that the best healthcare should help prevent illness by looking after mind and body.

Nuffield Health
Nuffield Health's vision is multi-faceted, but a key part of this drive to look after mind and body, is the implementation of credible ways to help patients pass time in the hospital environment.
Central to this thinking, is the provision of, as much as realistically possible, a home-from-home TV system with a host of content options.
With this in mind, Airwave was enlisted to design and implement a patient entertainment system that, not only provides the necessary line-up of information pages and TV channels, but offers patients access to the sort of services (such as catch-up TV services, Netflix, YouTube etc) that they're used to at home.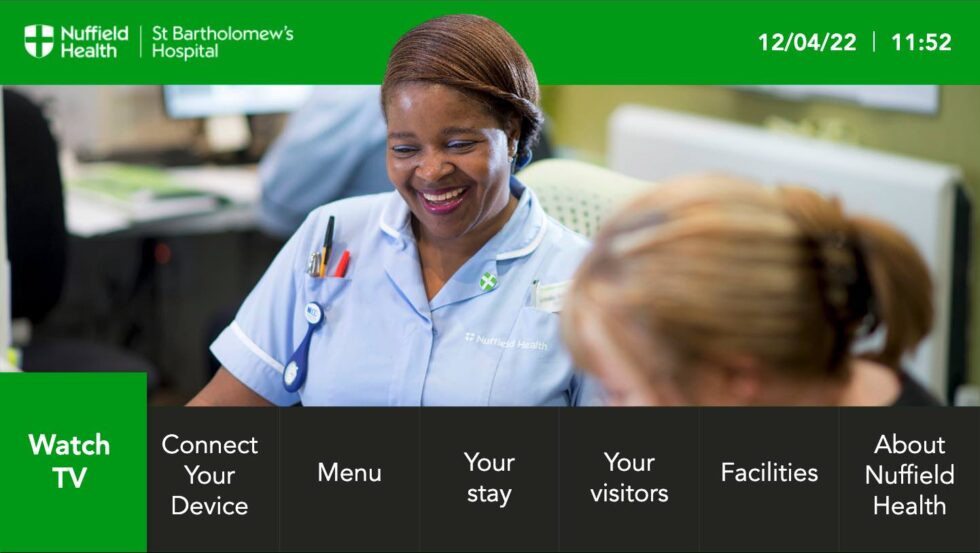 The Technology
Nuffield St.Bart's required a patient entertainment system to be implemented across several areas of the hospital, including single bedrooms, the high dependency unit, day patients & PODS, staff restaurant, office, RMO area and the staff meeting room.
Work commenced with the implementation of aerial & reception infrastructure to support the delivery of Freeview channels and smart services across the hospital's network.
To conform to the various requirements/aesthetics of the individual television points, Airwave installed a selection of commercial TV models, including LG's LT661H Series and Samsung EJ690 Series – display sizes ranging from 24 to 65-inch.
The typical set-up however, comprised of a wall-mounted LG 32-inch LT661H display. The 661H Series features LG's WebOS 4.5 smart TV platform, commercial mode and a number of features to enhance the viewing experience – such as 'Instant On' a high-speed loading system that allows the user to enjoy content immediately after turning on the TV.
An Otrum Mirage interactive information system was implemented on each TV, with a homepage designed to accommodate a number of information pages, and access to 'Connect Your Device' functionality, provided by Google Chromecast.
Chromecast allows the patient to cast content from a portable device to the hospital's TV, offering content from 1000+ apps including Netflix, Amazon Prime, BBC iPlayer, YouTube etc.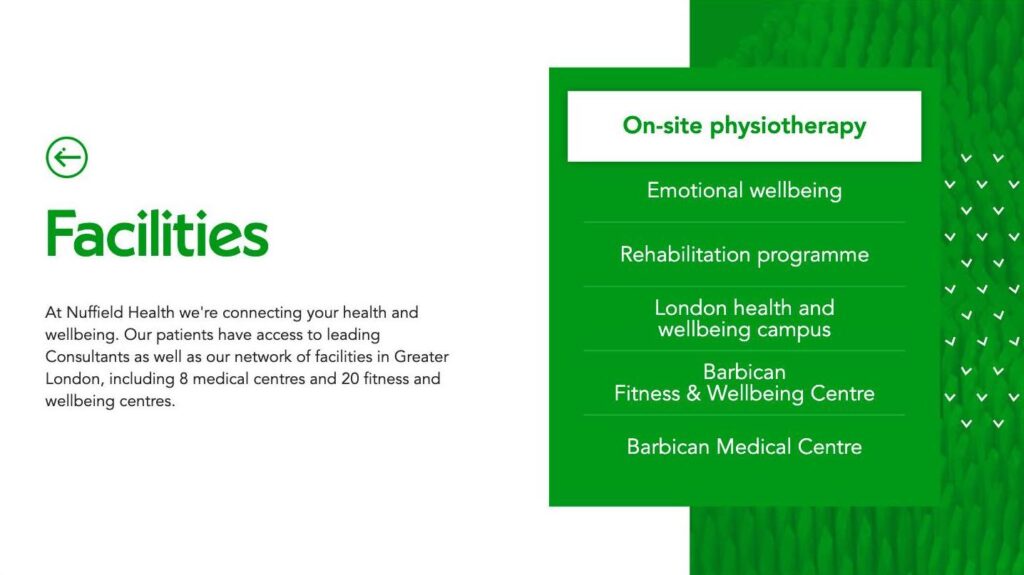 Facilitating the viewing of linear TV, Airwave implemented a grid-style EPG on each TV, especially useful for patients that want to plan their day's viewing.
Each TV's remote control unit was positioned in close proximity to the bed, neatly mounted in a perspex holder, and attached to a curly cord – preventing theft, misplacement of the unit or simply, stopping a dropped remote control turning into the pressing of a nursecall button.
Airwave also installed digital signage in the hospital reception and waiting areas, wall-mounting 49-inch LG49SM5KE displays, operated via Otrum digital signage software, implemented on LG STB5500 set-top boxes. The signage displays were configured to play PIP (picture in picture) to allow both TV content and marketing/information material to run concurrently.
Otrum's signage software is powerful, flexible and most importantly, intuitive and easy to use, allowing hospital staff to quickly and effortlessly upload important messaging to each display (either independently or as a group).
In the hospital meeting room, Airwave wall-mounted a 65-inch Samsung EJ690 display and incorporated Barco Clickshare CSE-200 technology – offering 'one click' wireless presentation from a laptop or even tablet/smartphone.