Technology is playing an important role in improving, not only the quality of resident life, but the standard of care within care homes and hospices in the UK.  Whilst the majority of Airwave's work within this sector has been the supply and integration of television screens, the changing face of technology has expanded and diversified Airwave's product and service portfolio.
Airwave's long-standing expertise in the residential care sector ensures that the right systems and technologies are recommended.  Requirements can often be simple: as an example, mountable Freeview televisions with large-button remote controls and a simple channel listing is a common request.
However, in order to provide as rich and enjoyable experience as possible for patients and residents, Airwave are in a position to recommend and supply a number of feature-rich systems that engage residents and aid operational efficiency.  A few examples being: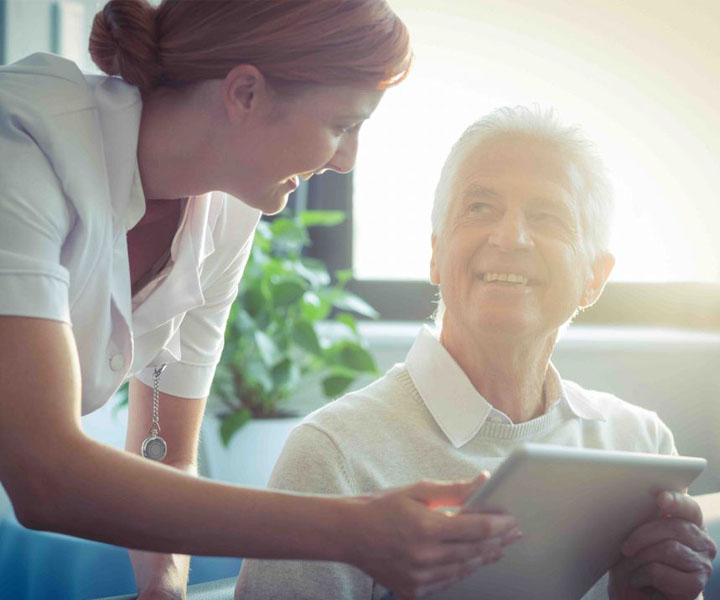 CLOUD COMMUNICATION AND MOBILITY
Cloud-based technology – especially in conjunction with portable devices – is scalable, easily accessible and facilitates quick and efficient communication across one or a number of properties.  Electronic care management applications improve operational efficiencies, in turn increasing care staff's time to deliver care to residents.
INFORMATION SYSTEMS
Information systems embedded in healthcare TV screens (or tablets) enable a property to communicate, educate and inform residents, creating a centrally managed, interactive and paperless method of communication. For further details click here.
VIDEO TECHNOLOGY
Video technologies such as FaceTime and Skype are becoming increasingly intuitive and accessible via display technology.  These provide often isolated/lonely residents with a window to the world and regular access to friends and family and as such, can be invaluable commodities.
ASSISTED VIEWING
Articulated arm mounts, fixable to walls, ceilings and trollies offer flexible viewing and display positioning, assisting elderly and disabled residents (these can also be used to minimise the hardware footprint). All products are designed with infection control in mind and can be cleaned easily and efficiently.