In partnership with the Royal United Hospital NHS Trust, Sulis Hospital is the first privately owned hospital in the UK, wholly owned by an NHS Trust.
Located 6 miles south of Bath's city centre, Sulis provides care for both NHS and private patients. The hospital's private patient care model is of benefit to all, allowing additional income earned through private care, to be reinvested in high quality services – including over 350 treatments across 40 specialities.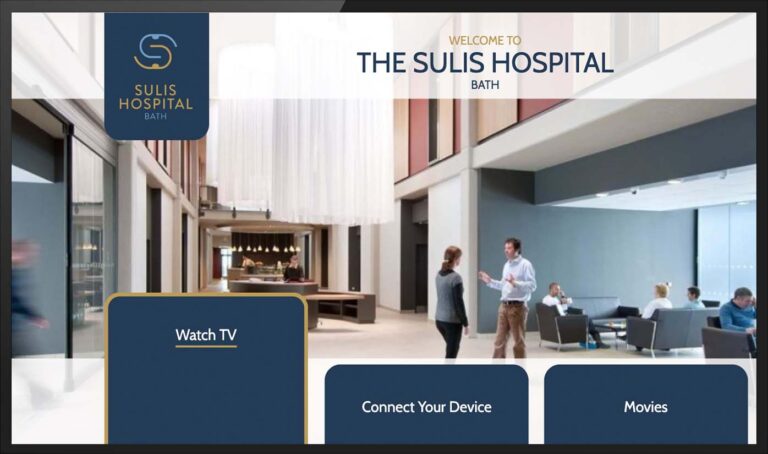 Having installed a Samsung LYNK SINC platform within the site (previously known as Circle Hospital, Bath) a few years prior, Airwave were happy to return to modernise the TV system in the hospital's single bedrooms.
The project commenced with the implementation of an EasyStream IPTV headend, underpinning a full line-up of Freeview TV channels and radio services.
The technology was fronted by flat-to-wall mounted 32-inch Samsung EJ690 Series SMART TVs, integrated with an Otrum Mirage patient entertainment system. This featured a simple, but intuitive user interface (pictured above), including pathways to commercially certified Google Chromecast and the cloud-based movie on demand APP, Airtime.
Not every patient owns a portable device, or indeed has the technical savvy to operate Chromecast, in these circumstances, Airtime's movie platform offers a catalogue of premium movie and programming content. This provides a much more inclusive entertainment package, to suit the vastly varying demographics of hospital patients. 
Part of Airwave's remit, was to design a system that can be replicated if and when necessary.
On this occasion, "when" being the operative word, with the Royal United Hospitals Bath Trust looking to extend Sulis' system across bedrooms within The Dyson Cancer Centre in Bath (pictured above). Located at the Royal United Hospital Bath's site, the £50 million 6,470 sqm healthcare facility is currently in construction, with an anticipated June 2023 opening date.
To find out more about this installation, or any of the technologies involved, get in touch: 01403 783 483 | info@hospitaltv.co.uk