Signature offers luxury assisted living, nursing and dementia care across 18 locations in London and the home counties. All homes offer premium, award-winning care amidst luxurious surroundings.
Airwave Healthcare was approached to provide a premium TV entertainment system, in keeping with the five-star service offering in Signature's new site in Wandsworth Common, London.
Airwave proposed a mixture of 43 and 55-inch Samsung SMART EJ690 Series TVs, integrated with Google Chromecast, and wall-mounted in the resident bedrooms.
Key to Signature's remit, was the ability to communicate with residents, promote activities and provide a meal ordering service via the bedroom TVs. With this in mind, Airwave implemented an Otrum Enterprise interactive system, working alongside Signature's marketing team to design a graphical user interface and a series of branded information pages.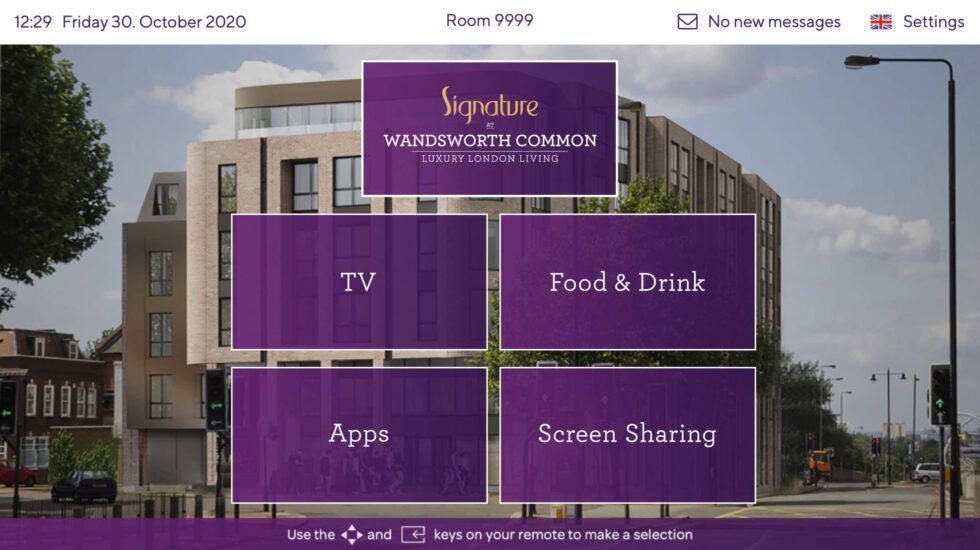 In conjunction with this, additional service functionality was implemented via an Otrum Touch system. Touch offers a number of operational efficiencies, in this instance, used to send food and drink orders from Signature's F&B staff to the property's kitchen.
Other features available include: room status management, automatic task allocation (based on staff availability), maintenance reporting and two-way messaging.
Airwave Healthcare and Signature worked closely together (mostly on a remote basis due to covid-19 restrictions) to deliver a cutting-edge TV system that has since become the group standard, due to be rolled out across further sites in 2021/22.